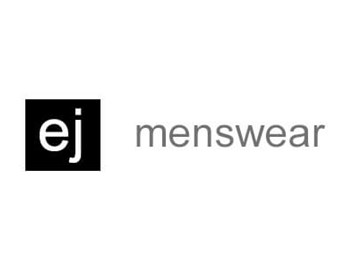 Sorry, this offer is no longer available. You may have already redeemed it or it has expired.
What do I get?
EJ Menswear - Where quality never goes out of fashion! EJ Menswear is a Drapers Award Winning Independent Menswear Store that, over the last 23 years, has built a reputation for specialising in quality, stylish & always on-trend fashionable clothing for men. With an unparalleled range of brands that include Ralph Lauren, Ted Baker, Paul & Shark, GANT, Farah, G-Star, Superdry and many more, EJ menswear is the destination store for the fashion-forward man.
Where can I use this voucher?
Online
Terms & Conditions
Your promotion code entitles you to 10% off www.ejmenswear.com
Can be used on ejmenswear.com website only (www.ejmenswear.com)
Each voucher code is unique and can only be used once
To avail of your code, go to the website (www.ejmenswear.com), choose your item & add to your cart .
At check out, simply enter your Promo Code to trigger your 10% off
This promotion is operated by WIN|WIN – The Rewards & Loyalty Agency on behalf of SSE
SSE Reward general T&C's also apply