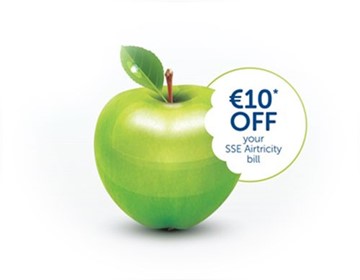 Applegreen - Earn points in-store
Sorry, this offer is no longer available. You may have already redeemed it or it has expired.
What do I get?
SSE Airtricity Republic of Ireland customers can avail of SeatSwap offer with Applegreen. Collect your points and redeem for 6 new 'Seat' themed Rewards Categories or get €10 off your electricity bill. Earn points each time you shop in-store at Applegreen
Where can I use this voucher?
Republic of Ireland
Terms & Conditions
These terms and conditions relate to the SSE Airtricity's participation in the Applegreen Rewards Programme ("SSE Airtricity / Applegreen Rewards Programme").
Reference in these terms and conditions to "Us" or "We" or "SSE Airtricity" refers to SSE Airtricity Limited.
In order to qualify for participation in the SSE Airtricity / Applegreen Rewards Programme, you must be an existing Bill Pay domestic customer using a credit meter with an SSE Airtricity gas / electricity account ("SSE Airtricity Energy Account") in the Republic of Ireland.
When you redeem your Applegreen points to obtain a discount on your SSE Airtricity gas and/or electricity bill ("SSE Airtricity Energy Bill"), you are deemed to sign up to the Applegreen Rewards Terms and Conditions together with these terms and conditions and any other documentation referred to therein.
Upon receipt of your Applegreen Rewards points, you may redeem these points for a discount against your SSE Airtricity Energy Bill as follows:
You will be required to log on to the Applegreen Rewards Website (https://rewards.applegreen.ie/member/login), select the SSE Airtricity deal and enter your unique SSE Airtricity Energy Bill account number and account holder surname. By engaging in the promotion via applegreen.ie/rewards you are allowing Applegreen contact you with your registered contact number to verify your SSE Airtricity account information.
You will receive a confirmation pop-up online as soon as Applegreen has registered you for your SSE Airtricity deal
For every 1000 Applegreen points you receive, you will be entitled to a discount of €10.00 against your next SSE Airtricity Energy Bill. The minimum discount which will be applied to your SSE Airtricity Energy Bill is €10.00 and, thereafter; only denominations of €10.00 are accepted against your SSE Airtricity Energy Bill. There is no maximum limit on Applegreen Reward points that can be used to obtain a discount on your SSE Airtricity Energy Bill
You will then receive an e-mail from Applegreen confirming that your points have been redeemed against your next SSE Airtricity Energy Bill
Your SSE Airtiricty Energy Bill will be discounted in the next billing cycle
For the avoidance of doubt, by agreeing to these Terms and Conditions and participating in the SSE Airtricity / Applegreen Rewards Programme, you authorize Applegreen to contact you by telephone to verify your SSE Airtricity account information
The discount will only apply to one registered SSE Airtricity Energy Account. For the avoidance of doubt, a discount cannot be split between different SSE Airtricity Energy Accounts
There is no cash alternative to the Applegreen Reward points
The discount arising upon redemption of your Applegreen points will be applied to your next SSE Airtricity Energy Bill and not against any outstanding repayment/debt amount due to SSE Airtricity
If you cancel your SSE Airtricity Energy Account or your SSE Airtricity Energy Account is terminated for any reason, your Applegreen Rewards points shall no longer be redeemable for a discount to your SSE Airtricity Energy Bill
SSE Airtricity is entitled to cancel or terminate the SSE Airtricity / Applegreen Rewards Programme at any time without notice
SSE Airtricity reserves the right to amend, modify and update these Terms and Conditions at any time without notice. We advise you to check our Terms and Conditions regularly to ensure that you are up to date with the latest information. By continuing to use the SSE Airtricity Applegreen Rewards Programme website after being notified of any changes, you will be deemed to have accepted such changes
We may suspend any or all of the SSE Airtricity / Applegreen Rewards Programme website at any time for such reason as we may consider necessary to allow us to inspect, maintain, renew, repair or revise it
We reserve the right to suspend or terminate your use of the SSE Airtricity / Applegreen Rewards Programme website at any time if you do not adhere to these Terms and Conditions
While SSE Airtricity is not accountable for any issues arising from the nature of the goods and services provided by Applegreen, if you are unhappy with any goods or services offered by Applegreen, please visit applegreen.ie/rewards or email Applegreen at rewards@applegreen.ie or call the Applegreen Rewards Customer Helpline on 01 – 5124884
These Terms and Conditions shall be governed by and construed in accordance with the law of the Republic of Ireland. You irrevocably submit to the exclusive jurisdiction of the courts of Republic of Ireland
SSE Reward general T&C's also apply